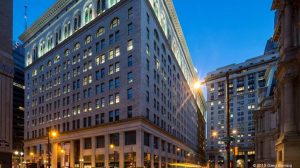 The Wanamaker building is facing 500,000 square feet of vacant space after Children's Hospital of Philadelphia exercised an option to terminate its lease at the building and two other tenants decided to move out.
The 1.4-million-square-foot building at 100 Penn Square East in Center City has 950,000 square feet of office space and the remainder is retail space occupied by Macy's. With those tenant defections, the building faces having more than half of its office space vacant.
The vacancies come at a point when corporations are reevaluating their office space needs during the pandemic and delaying decisions on long-term leases. In spite of those challenges, there is hope that demand for space by life sciences companies may fill some of gaps left in Wanamaker and other Center City buildings.
Life sciences companies are increasingly in the market looking for office-lab space and the conversion of existing office space to accommodate these tenants is being considered by many downtown landlords. Though expensive, the cost to convert space is less and faster than ground-up development.
A recent report pegs the amount of space being sought by life sciences companies within Philadelphia at nearly 725,000 square feet, which is roughly double the amount since the beginning of the year.
CHOP occupies 300,000 square feet at the Wanamaker and expanded by more than 50,000 square feet last year.
CHOP said it is reevaluating its office space in preparation for a post-Covid world and is in discussions to "identify new lease terms."
"We are committed to creating work environments that advance our mission, make the best use of our resources and enable our employees to meet and collaborate according to their needs," CHOP said in a statement.
CHOP has several development projects in various stages that could eventually shift employees from Wanamaker closer to the hospital's main campus in University City.
Two agencies within the General Services Administration were the other defections from Wanamaker. The Army Corps of Engineers, which had 113,000 square feet, and Housing and Urban Development, which occupied 119,000 square feet, have signed a lease to occupy the former Environmental Protection Agency space at 1650 Arch St.
Wanamaker was purchased in 2017 in a $200 million deal, the company was aware of the potential for CHOP and the GSA to move on from the building. That risk corresponded with the company's plans to move forward with a $30 million renovation of the building that included updating the lobby and other common areas, improving the courtyard and adding several amenities including Mindspace, a coworking operator that signed a lease on 42,000 square feet.
The strategy involved completing those improvements in an attempt to bring Wanamaker up to Class A space and increase rents by $10 a square foot.
The space will come available between 2021 and 2023, which will purportedly be post-pandemic. By then, most companies will return to making long-term decisions on their office space needs and providing some wiggle room before the space no longer has a tenant paying rent.
The size of the floorplates, ceiling heights and other characteristics appear to accommodate such conversions. The company also needs to consider how that might work with other tenants in the building.
*Article courtesy of Philadelphia Business Journal
For more information about Philadelphia office space for sale or lease in Philadelphia or about any other Philadelphia properties for sale or lease, please contact WCRE at 215-799-6900.
Wolf Commercial Real Estate, a full-service CORFAC International brokerage and advisory firm, is a premier Philadelphia commercial real estate broker that provides a full range of Philadelphia commercial real estate listings and services, property management services, and marketing commercial offices, medical properties, industrial properties, land properties, retail buildings and other Philadelphia commercial properties for buyers, tenants, investors and sellers.
Please visit our websites for a full listing of Philadelphia commercial properties for lease or sale through our Philadelphia commercial real estate brokerage firm.