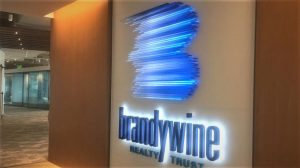 As many as 85% of tenants in one office landlord's buildings across the country are still working from home, and its executives say large employers are realizing they may have more of a struggle on their hands in getting everyone back than first anticipated.
Brandywine Realty Trust executives are finding that even as some tenant employees are growing annoyed with full-time remote working, the big companies have a laundry list of concerns that they are finding that they can't manage away.
"The longer this has gone on, the more we are hearing consistently across our office base that they can't wait to return to the office," said Jerry Sweeney, CEO of the real estate investment trust, during a conference call to discuss its most recent earnings. However, public policy, mass transit and concerns about liability for employers are holding many companies back, particularly larger firms such as Comcast and Lincoln Financial in Philadelphia, he said.
Seven months into the pandemic in the United States, office landlords with buildings spread across different regions of the country are providing an across-the-board glimpse into the way tenant companies are dealing with having their workers outside the office. As new confirmed coronavirus cases reach daily records around the country, more top executives are facing talking with their landlords about the worsening conditions that are forcing them to write rent checks for buildings they mostly aren't filling up right now.
Brandywine, which owns about 15 million square feet of space located mostly across Philadelphia, Washington, Virginia and Austin, Texas, reported that just 15% of its U.S. office tenant base has returned to the office. But that percentage is noticeably lower in Austin, where it is one of the city's biggest office landlords.
Only 8% of Brandywine's office tenant base in Austin has returned to work in person at the office a full seven months after the pandemic started, according to the office REIT. That percentage is being held down because one of its major office tenants in Austin, IBM, doesn't plan to send its employees back to its north Austin campus until early next year, Sweeney said.
Without IBM, Brandywine's Austin's percentage of office tenants back at the office would be somewhere in the "mid-teens," Sweeney said. Across its portfolio, the Washington area is seeing the highest percentage of tenants going back to the office at 25%.
Construction on the 25-story 405 Colorado in downtown Austin is expected to be complete early next year. (Brandywine).
Public health guidelines in cities like Philadelphia, where Brandywine is based, are still requiring employees to work remotely when feasible, though Sweeney said about 18% of its tenant base in Philadelphia's suburbs are back at the office.
Meanwhile, Texas health officials are also encouraging remote work when possible, though the governor has allowed offices to operate at 75% capacity since September.
"Austin, I think, wound up being one of those cities that had opened up early then had some surge issues reduced or retracted back some of that progress and now is on the way back," Sweeney said.
Even with 85% of its office tenant base mostly still working remotely, tenants are still paying rent. Brandywine collected 99% of its expected office rental income in the third quarter and 97% of its expected rental income in October so far, Sweeney said
Building projects are still moving forward. Brandywine is on track to complete construction of its $116 million office tower in downtown Austin called 405 Colorado early next year. DLA Piper law firm backed out of a lease in the project earlier this year, leaving the tower now just 18.3% preleased months away from delivery. However, Sweeney said there is nearly 200,000 square feet of potential deals in the leasing pipeline for 405 Colorado.
Elsewhere in Austin, Brandywine expects to receive final approvals from the city of Austin for Block A within its broader redevelopment of the 66-acre Broadmoor campus, where IBM is located not far from The Domain, the company said. Block A is expected to consist of a 350,000-square-foot office building and 340 apartments. Overall, the Broadmoor plan calls for a massive mixed-use hub with up to 3.2 million square feet of office space, 2.9 million square feet of residential space, 382,000 square feet of retail space and 284,000 square feet of hotel space.
Brandywine is continuing to develop Schuylkill Yards in Philadelphia with a new life sciences focus. (Brandywine)
In the Philadelphia area, its major development project in the works is Schuylkill Yards, a multiphase, 5.1 million-square-foot mixed-use development. Brandywine completed construction of the Bulletin building there in the second quarter, and it has acquired the leasehold land to develop two mixed-use buildings totaling 1.3 million square feet at 3025 JFK and 3001 JFK, according to its latest earnings update.
Also in Philadelphia in July, Brandywine sold its 30% equity stake in One and Two Commerce Square to an institutional investor for $115 million.
In the Arlington, Virginia, area outside D.C., Brandywine expects to complete construction on a $224 million mixed-use tower, 4040 Wilson, in the first quarter through a joint venture with Shooshan Co. The 22-story building is 62% preleased.
Overall, Brandywine saw its net income spike to $274 million in the third quarter from $6.7 million during the same time last year because of significantly less expenses, but its revenue in the third quarter fell 13% to $126 million compared to $145 million for the quarter last year.
For more information about Philadelphia office space for sale or lease in Philadelphia or about any other Philadelphia properties for sale or lease, please contact WCRE at 215-799-6900.
Wolf Commercial Real Estate, a full-service CORFAC International brokerage and advisory firm, is a premier  Philadelphia commercial real estate broker that provides a full range of Philadelphia commercial real estate listings and services, property management services, and marketing commercial offices, medical properties, industrial properties, land properties, retail buildings and other Philadelphia commercial properties for buyers, tenants, investors and sellers.
Please visit our websites for a full listing of Philadelphia commercial properties for lease or sale through our Philadelphia commercial real estate brokerage firm.