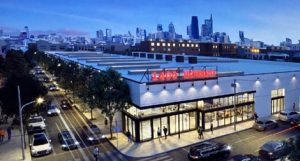 A Charlotte real estate firm has paid $9.45 million for a 78,000-square-foot building at 1400 N. Howard St. in Philadelphia and plans to invest another $8 million to redevelop it.
While the Charlotte real estate firm owns several High Street retail properties near Rittenhouse Square including 1704 Walnut St., it also has a growing presence in the area around the South Kensington neighborhood where it bought the vacant North Howard Street property.
So far the firm spent a total of $31 million buying properties in the Kensington and Fishtown sections of the city. The company owns the building at 1002 Canal St. that housed the now closed Goose Island Brewhouse, 1100 N. Front St. where Love & Honey Fried Chicken is located, and a commercial condominium at 1405 Frankford Ave.
The company prefers to buy in well-established neighborhoods and acquire properties in which it can launch adaptive reuse projects. In April 2019, the company closed an $800 million fund that is being deployed to buy urban and infill neighborhood locations across the country.
Philadelphia is among those cities it is targeting and, aside from Rittenhouse Square, it's drawn to the Fishtown-Kensington area.
The Howard Street property is a single-story building that encompasses an entire city block. Though it has an industrial past, the building was rezoned for residential use. At one point, a townhouse development was proposed by the previous owner but that never materialized.
The firm was granted new commercial zoning by the Philadelphia Zoning Board of Adjustment that will allow for the company to follow through on its plan to redevelop the building into retail and office space. The office portion would take up about 80% of the building, leaving the remainder for retail use.
While the restaurant and retail scene has grown in recent years along Frankford Avenue, the office market in that area is nascent. The company encouraged by the presence of companies such as La Colombe and Honeygrow, which not only have retail operations in the area but also their respective corporate offices. Kracke believes there are companies like La Colombe and Honeygrow that would prefer to have their offices be in a neighborhood rather than Center City.
Rents for the office space are projected to range from the high $20s a square foot to the low $30s.
The Charlotte Firm plans to begin construction next summer and expects to complete the project in 2022.
*Article courtesy of Philadelphia Business Journal
For more information about Philadelphia office space for sale or lease in Philadelphia or about any other Philadelphia properties for sale or lease, please contact WCRE at 215-799-6900.
Wolf Commercial Real Estate, a full-service CORFAC International brokerage and advisory firm, is a premier Philadelphia commercial real estate broker that provides a full range of Philadelphia commercial real estate listings and services, property management services, and marketing commercial offices, medical properties, industrial properties, land properties, retail buildings and other Philadelphia commercial properties for buyers, tenants, investors and sellers.
Please visit our websites for a full listing of Philadelphia commercial properties for lease or sale through our Philadelphia commercial real estate brokerage firm.