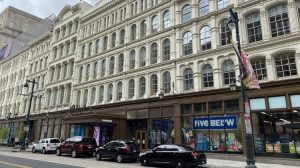 Five Below Inc. is trying to sublease 42,000 square feet at its Philadelphia headquarters, deciding it no longer needs the space it grabbed two years ago for future expansion. If possible, it wouldn't mind getting rid of an additional 26,000 square feet for a grand total of 68,000 square feet.
The company is "evaluating a hybrid model and the hybrid model needs less space," said Christiane Pelz, a company spokeswoman.
The discount retailer is far from the only company undertaking a process to determine how much space it needs going forward. Many companies are considering more flexible work arrangements post-pandemic and this has meant they don't need as much space as they currently occupy.
As a result, firms in every sector across the region are vacating and subleasing that excess space and just about every office submarket is suffering from the same malaise: more sublease space coming available, higher vacancies and negative absorption rates.
Examples of companies that have vacated or looking to sublease space include: Optum 360 vacating 137,000 square feet at 1001 Adams Ave. in Lower Providence; PNC Bank vacating 255,000 square feet at its operations center at 8800 Tinicum Blvd. in Philadelphia; Farmers Insurance Group leaving 211,000 square feet at 3 Beaver Valley Road in Wilmington; Oracle Corp. subletting 29,150 square feet at Five Tower Bridge in Conshohocken; Comcast Corp. subletting 18,375 square feet at Four Tower Bridge in Conshohocken; Teknion emptying out of 29,650 square feet at 350 Fellowship Road in Mount Laurel, N.J.; and Magee Memorial Hospital vacating from 19,000 square feet at Suburban Station in Philadelphia.
A recent study shows the amount of sublease space has risen across the region including the western suburbs, Center City, Wilmington and South Jersey and few have been spared.
Of the 27 submarkets tracked, 19 experienced increases in sublease vacancy, three decreased, and five have remained unchanged. The office submarkets of Valley Forge, Delaware County, and New Castle County have seen the largest increases over the past year.
Research shows the average office employee is expected to spend about 35% of their time working remotely.
The overall vacancy rate for the region stands at 17.7%. Vacancy in Center City is 14.3% and 19.5% in the suburbs. At the end of the first quarter in 2020, Center City's vacancy rate was 12.4% and the suburbs stood at 14.7%, according to Newmark.
The rising vacancies and sublease space doesn't mean the market has cratered. Leases are still getting done and some submarkets are showing resilience.
"The Conshohocken market is still incredibly strong," said Chris Buccini, co-president of Buccini/Pollin Group, which owns buildings in Conshohocken, along Swedesdford Road in Wayne and Wilmington. "What we're finding is if tenants want to leave the city and go to the suburbs and they want to be in an urban environment, they come to Conshohocken."
Since March 2020, Buccini/Pollin wrapped up 75 new and renewal deals totaling one million square feet of deals that tallied up to $300 million in lease transactions across its three main markets of Wilmington, the Philadelphia suburbs and Pittsburgh. Whether that momentum will carry into this year has yet to be seen.
First-quarter regional leasing activity totaled 679,894 square feet, declining by 25% from the end of the year. Leasing activity in Philadelphia's Central Business District fell 57.4% to 188,263 square feet.
"The reality is that if you ask anyone who has been working from home for the past year what they need, they really have no idea what they need," Buccini said. "The needs are different and not one size fits all. Companies are going to have to come back and see what they need."
Brandywine Realty Trust, the region's largest landlord of trophy and Class A office space, said in its first quarter earnings call that it is seeing "encouraging signs" in the office market such as an increase in leasing and tour activity.
Smaller to midsized tenants are the ones that have generally returned to work and those tenants that have yet to do so have told Brandywine three target dates for returning to their offices: July 1, Labor Day and sometime in the fourth quarter.
Five Below leases 200,000 square feet at the Litsbuilding at 701 Market St. The 42,000 square feet of expansion space has been demolished in preparation for a build out that won't happen and a tenant could take that raw space and fit it out. Five Below also has another 26,000 square feet of built out space that is also available for sublease.
*Article courtesy of The Philadelphia Business Journal
For more information about Philadelphia office space for sale or lease in Philadelphia or about any other Philadelphia properties for sale or lease, please contact WCRE at 215-799-6900.
Wolf Commercial Real Estate, a full-service CORFAC International brokerage and advisory firm, is a premier Philadelphia commercial real estate broker that provides a full range of Philadelphia commercial real estate listings and services, property management services, and marketing commercial offices, medical properties, industrial properties, land properties, retail buildings and other Philadelphia commercial properties for buyers, tenants, investors and sellers.
Please visit our websites for a full listing of Philadelphia commercial properties for lease or sale through our Philadelphia commercial real estate brokerage firm.