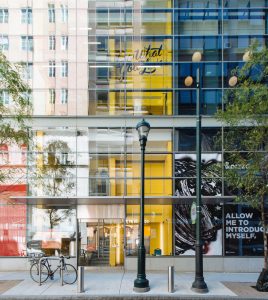 WeWork, the coworking giant with locations across the globe and major hubs in New York and California, will be closing its 1430 Walnut Street location at the end of the month, tenants were told Monday.
In an email to members that Technical.ly obtained, the company said it had been conducting an in-depth review of its "global real estate portfolio in order to optimize our assets and operations around the world."
"In line with that effort, we have decided to close the WeWork location at 1430 Walnut St.," the email read. The coworking company moved into the building, shared with the Cheesecake Factory and Verizon, in 2016.
The move-out date for tenants is by Sept. 30, and the company said it will work with them to move into spots at one of the coworking company's four other Philly locations. WeWork currently has three other Center City locations, and one in Northern Liberties.
A WeWork spokesperson told Technical.ly that the plan to close this location came before the coronavirus pandemic forced workers to abandon offices. It came as part of the company's outline of its five-year plan, they said. There's no plan to close additional offices in Philadelphia, they added.
"In streamlining our portfolio towards profitable growth, we have decided to move on from WeWork 1430 Walnut in Philadelphia," the spokesperson said. "With four excellent, alternative WeWork locations in the immediate area, we remain committed to the Philadelphia market and look forward to providing our members here with first-class, flexible space solutions."
The Rittenhouse-adjacent location appears to be one of a handful of WeWork offices that have been slated to close in the last few weeks, as locations in Durham, North Carolina, and Miami, Florida, are also being cleared out. It also terminated a lease for a planned Baltimore location in July.
The coworking company pulled its IPO last year to "focus on our core business, the fundamentals of which remain strong," WeWork's then-co-CEOs Artie Minson and Sebastian Gunningham said in a statement at the time.
Many voiced skepticism around the $47 billion valuation assigned to it in the private markets by SoftBank, its biggest backer, and the company removed Adam Neumann as its CEO last fall. Amid the fallout, the company laid off 2,400 workers in November of 2019 and began a 90-day plan to divest from "non-core businesses" it had bought including Meetup.com and women-focused coworking space The Wing.
Jeremy Peskin, a tenant of the 1430 Walnut street location and cofounder of legal tech startup Docketwise, told Technical.ly that he currently has two office spaces at the soon-to-close location. He'd been in the space for three years, and has been happy with their setup.
"Everyone on our team has the option to work remotely and we would want private offices wherever we go, but we do still find coworking appealing for the shared amenities and simplicity," Peskin said.
On Tuesday, Peskin said he learned that WeWork wouldn't be letting tenants out of their contracts with the company unless they resign a new contract in one of the company's four other Philly locations. They've offered an office at another location, he said, as their lease doesn't end until January 31.
Neighborhoods surrounding Center City aren't lost for options outside of WeWork, though — Philadelphia clocked in more than 1.1 million square feet of flexible work space at the end of 2019. (Check out our 2020 coworking guide here). Within a few blocks of the closing WeWork location are coworking spots The Yard,1776 Rittenhouse, MakeOffices, CultureWorks and Spaces.
*Article courtesy of Technical.ly
For more information about Philadelphia office space for sale or lease in Philadelphia or about any other Philadelphia properties for sale or lease, please contact WCRE at 215–799-6900.
Wolf Commercial Real Estate, a full-service CORFAC International brokerage and advisory firm, is a premier  Philadelphia office commercial real estate broker that provides a full range of Philadelphia commercial real estate listings and services, property management services, and marketing commercial offices, medical properties, industrial properties, land properties, retail buildings and other Philadelphia  commercial properties for buyers, tenants, investors and sellers.
Please visit our websites for a full listing of  Philadelphia commercial properties for lease or sale through our  Philadelphia  commercial real estate brokerage firm.