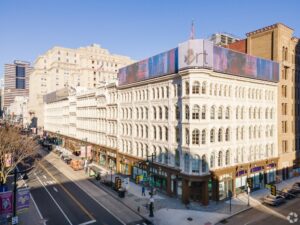 WCRE is proud to have exclusively represented ReachMobi, in the subleasing of 10,500 square feet of office space located at the The Lits Building, 701 Market Street, Philadelphia, Pennsylvania from Five Below, in their corporate headquarters.
ReachMobi develops apps that enable end users to be more efficient, operate their devices more simply and connect to sites that more accurately reflect their interest. ReachMobi's invaluable array of apps transform devices to enhance functionality and align with the user's personality and passion.
Five Below was founded in Philadelphia and has quickly become an iconic national retail brand.Opening their first store in Wayne, PA in 2002, Five Below now has over 1200 stores and is in 40 States. Their fun products and brightly lit stores feature all products for $5 or less and have become ubiquitous for US teen culture. Five Below relocated their corporate HQ to 701 Market in 2016, which features open exposed ceilings, exposed brick and beam and a now famous employee amenity space named "Wow Town".
701 Market itself is a famous asset. Originally constructed in 1893 for the Lit Brother's Department Store, 701 Market contains 718,000 sf comprised of 650,000 sf of office space and 150,000 sf of retail space. Brickstone purchased the building in 1989 and transformed the original structure and 8 others on the block into the modern office and retail building it is today. Brickstone has rebranded 701 Market as The Lits Building and has refurbished the common areas and office space into modern, exposed brick and beam space, highly sought after by employers to attract and retain talent.
The leasing of this office space adds to WCRE's growing number of successful office transactions in the Philadelphia market, led by Todd Monahan, Executive Vice President and Managing Director, who exclusively represented the tenant in this transaction.