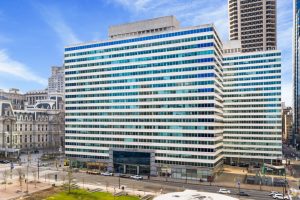 WCRE is proud to have exclusively represented Sadek & Cooper, in the leasing of 3,468 square feet of office space located at Two Penn Center, 1500 JFK Blvd., Philadelphia, PA from Crown Two Penn Center Associates, LLP an entity controlled by ASI Management.
Sadek & Cooper is a multi-disciplinary law firm specializing in both Family Law and Bankruptcy. Sadek & Cooper offers an array of services to individuals who are seeking bankruptcy solutions to their debt problems. Their lawyers provide individuals a meticulous analysis of their client's options in numerous areas; Chapter 11, Chapter 13, Mortgage Foreclosure, Student Loan Debt Relief, Tax Foreclosure and related areas of debt relief.
Two Penn Center is a Class "A" twenty story, 540,000 square foot office building at 1500 JFK Blvd.  Two Penn is directly across the street from Love Park providing tenants direct access to the recently renovated and iconic Philadelphia Park.  Two Penn also sits directly above Suburban Station and offers direct access to the Concourse, allowing employees to make the trip from desk to train in 5 minutes or less.  Built in 1960, Two Penn has undergone major renovations to the lobby and common areas and is professionally maintained.  Two Penn has numerous tenants who provide professional services in the fields of law, financial services, marketing and technology.
Todd Monahan, Executive Vice President and Managing Director at WCRE exclusively represented the tenant in this transaction.