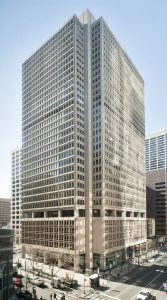 WCRE is proud to have exclusively represented Oscar Technology, in the leasing of 6044 square feet of office space located at 1700 Market Street, Philadelphia, Pennsylvania from 1700 Market Street Associates LLC, an affiliate of Shorenstein Realty Services, L.P.
Oscar Technology is an award-winning technology recruitment company. Oscar provides outstanding digital and technology recruitment services and have strong, long-standing relationships with their candidates and clients. Their employees know how to fill tech and digital roles, and who the best candidates are to fill them.  They offer an exceptional recruitment experience, for all candidates and clients, from start to finish.​ Oscar Technology is based in London, with offices in Manchester England, Amsterdam, Austin TX, Houston TX, and Philadelphia, PA. This geographical footprint provides the means to increase their database of candidates and clients daily.
1700 Market Street is a Class A thirty two story, 848,000 sq. ft. office building at 1700 Market Street in Philadelphia.  Built in 1970, 1700 Market has undergone renovations several times throughout its history, which has enabled the building to remain competitive and viable for top quality and prestigious companies to locate offices.  Shorenstein, its current owner, renovated the lobby and common areas over the past five years along with other essential upgrades.  Shorenstein also has added a state of the art amenity center on the 6th floor, which features a large conference training center, tenant only lounge, roof deck and first class fitness center. 1700 Market features the largest parking garage on Market Street with over 670 spaces.  1700 Market is home to numerous prestigious tenants such as; Deloitte, Reliance Standard Insurance, and AECOM.
Todd Monahan, Executive Vice President and Managing Director at WCRE exclusively represented the tenant in this transaction.