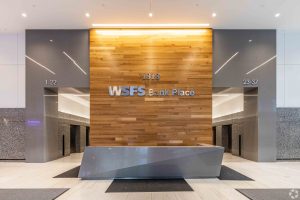 Shorenstein Properties has tapped into the commercial mortgage-backed securities market to refinance its 1818 Market St. Class A office building in downtown Philadelphia, according to analysis of the loan being rolled into a new offering likely to come to market next week.
Barclays Capital Real Estate provided a two-year, floating-rate, interest-only loan totaling $222.9 million, according to S&P Global Ratings. The loan has three 12-month extension options. Barclays has contributed the loan to a CMBS deal, BSST 2021-1818.
Shorenstein officials did not immediately respond to requests for comment from CoStar News.
The loan is secured by the 37-story, 999,828-square-foot multitenant building.
Shorenstein purchased the property in April 2015 for $184.75 million, or about $188 per square foot, according to CoStar data. Bank of America had provided $174 million in acquisition financing.
Since that deal, Shorenstein has spent $94 million through last month on renovations, tenant improvements and leasing costs, according to S&P Global. The property was appraised at $282.1 million for the purposes of the refinancing.
The refinancing returned about $44 million in equity to Shorenstein, S&P Global said.
The largest tenant in the property is WSFS Financial, after which the building is named, which occupies 96,800 square feet in a lease that runs through 2028. WSFS, which has it headquarters in Wilmington, Delaware, took over the space in its March 2019 purchase of Beneficial Bancorp, for which the building was previously named.
In its CMBS presale analysis, S&P Global said it believes there remains high, but moderating, uncertainty about the evolution of the coronavirus pandemic and its economic effects.
Shorenstein is facing at least one other major loan maturity this year. It has a $350 million CMBS loan coming due in November on its 1.1 million-square-foot 1407 Broadway office building in New York.
For more information about Philadelphia office space for sale or lease in Philadelphia or about any other Philadelphia properties for sale or lease, please contact WCRE at 215-799-6900.
Wolf Commercial Real Estate, a full-service CORFAC International brokerage and advisory firm, is a premier Philadelphia commercial real estate broker that provides a full range of Philadelphia commercial real estate listings and services, property management services, and marketing commercial offices, medical properties, industrial properties, land properties, retail buildings and other Philadelphia commercial properties for buyers, tenants, investors and sellers.
Please visit our websites for a full listing of Philadelphia commercial properties for lease or sale through our Philadelphia commercial real estate brokerage firm.