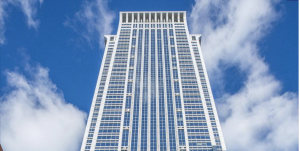 Silverstein Properties Inc. has closed on the $451.6 million purchase of BNY Mellon Bank Center, a 54-story, 1.3-million-square-foot office trophy office building in Center City.
Silverstein, a New York real estate firm, bought the property in a venture with Arden Group of Philadelphia, and Migdal Insurance, an Israeli-based insurance company and pension fund manager. This is the first acquisition in Philadelphia for Silverstein. Arden Group has owned properties in Philadelphia and its suburbs as well as developed the Ritz-Carlton and the Residences at the Ritz-Carlton in Center City.
Equity Commonwealth of Chicago was the seller. It said that after costs associated with capital expenditures, rent abatements, and leases, the sale amount was $435.6 million
For companies and individuals seeking to lease or acquire new Philly office space, Wolf Commercial Real Estate will identify the office space that best suits your needs, whether in the Greater Philadelphia area or anywhere in the country. Through our Philadelphia Tenant Representation services, we ensure that the sale or lease terms of the Philadelphia office space or any other new property are tailored to meet your goals. As a full-service Philly commercial real estate broker, we assist in the relocation analysis process from start to finish, facilitating a smooth transition into your new Philly office space and serving as your strategic partner invested in your long-term growth and success.
For more information about Philadelphia office space for sale or lease or about commercial properties for sale or lease elsewhere in the United States, please contact the team at Wolf Commercial Real Estate, the premier Philly commercial real estate brokerage firm at 215-799-6900.