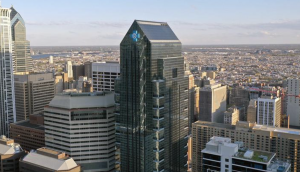 Independence Health Group, parent company to Independence Blue Cross, has closed on buying its Center City headquarters building for $360 million, or $450 a square foot.
The Philadelphia Business Journal first reported last month that Independence had put the 800,000-square-foot building at 1901 Market St. under contract.
Piedmont Office Realty Trust Inc. (NYSE:PDM) was the seller of the 45-story building, which it acquired for $174 million in 2003. Piedmont is based just outside of Atlanta.
Independence is the region's largest health insurer and had previously owned the 31-year-old skyscraper. It sold 1901 Market St. in the mid-1990s to Prudential Insurance Co. for what was believed to be around $150 million.
"The purchase of our headquarters at 1901 Market Street is a special moment for our company. More importantly, it signifies our long-term commitment to this neighborhood, the City of Philadelphia and to the amazing people who live and work here," said Independence Health Group CEO Daniel J. Hilferty, in a statement.
Nearly 2,500 of the insurance company's employees work from the building.
Since it was built, the building has been associated with the insurer and has become part of its brand. It is a prominent building in Philadelphia's skyline and has Independence Blue Cross' name on top of it. Over the last eight years, more than $110 million in upgraded were made to the building including a new lobby, outdoor plaza, renovations throughout for a more modern look, new mechanical systems and other amenities.
The insurer occupies other space along West Market Street including 218,000 square feet across four floors at 1900 Market St.
The roughly $450 per square foot sale price represents one of the top transactions for a Philadelphia office building on a per-square-foot basis. However, it doesn't break the record of $628 per square foot set by the 2018 sale of GlaxoSmithKline's headquarters at the Philadelphia Navy Yard.
Independence recently invested upwards of $100 million in top-to-bottom upgrades to the building.
The insurer, one of Center City's largest employers, has had a commitment to the building for the long term. Independence Blue Cross has a lease on the space until 2033 and has two 10-year options to remain in the space.
Independence Blue Cross saw its profit more than quadruple in 2018, largely because of a significant decline in medical claims spending. The insurer generated a profit of $324 million on revenue of $16.3 billion. In 2017 the parent company of Independent Blue Cross has a net income of $77 million and revenues of $16.4 billion. It ended 2018, the most recent financials available, with a $2.9 billion surplus, which is in the "efficient" range as defined by the Pennsylvania Insurance Department.
*Article courtesy of Philadelphia Business Journal
For more information about Philly office space for sale or lease in Philadelphia or about any other Philadelphia properties for sale or lease, please contact WCRE at 215-799-6900.
Wolf Commercial Real Estate, a full-service CORFAC International brokerage and advisory firm, is a premier Philadelphia commercial real estate broker that provides a full range of Philadelphia commercial real estate listings and services, property management services, and marketing commercial offices, medical properties, industrial properties, land properties, retail buildings and other Philadelphia commercial properties for buyers, tenants, investors and sellers.
Please visit our websites for a full listing of Philadelphia commercial properties for lease or sale through our Philadelphia commercial real estate brokerage firm