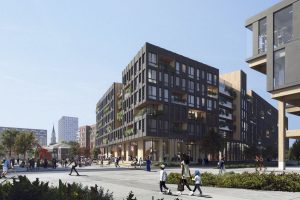 Ensemble Real Estate Investments and Mosaic Development Partners are preparing to break ground on two new biotech buildings at the Navy Yard, their first projects since being selected last year to lead an expected $2.5 billion in fresh development over 109 acres of the former barracks in South Philadelphia.
The two life-science projects ― a lab and office building and a drug-manufacturing plant ― are part of a first phase of development under the deal that Ensemble and Mosaic struck with the Philadelphia Industrial Development Corp., which manages the Navy Yard on the city's behalf.
That initial phase is expected to involve $400 million in new construction and to include the Navy Yard's first residential properties, the companies and PIDC said in a release on Tuesday.
"Commencement of [these] initial life sciences projects will launch the next exciting chapter of development at the Navy Yard," said Kate McNamara, a PIDC vice president. They "will bring high-quality jobs to the Navy Yard, support growing companies in the advanced life-sciences sector, and contribute to development of this dynamic campus."
Ensemble developed the Navy Yard's Marriott hotel and later acquired several other buildings there — including the headquarters of FS Investments and WuXi AppTec.'s biotech-manufacturing lab — from the tract's previous main developer, Liberty Property Trust.
Ensemble is now the largest private property owner at the former base, with 10 buildings there under its ownership.
Mosaic has led projects in Philadelphia neighborhood involving $120 million in investment since 2012, including the Eastern Lofts apartments in Brewerytown.
The Navy Yard, which employed 40,000 at its peak, came under city ownership in 2000 after the U.S. Defense Department decommissioned the site as a military base.
Under PIDC's watch, Liberty Property Trust turned a centrally located 80-acre section of the former barracks into what is known as the Corporate Center, a collection of contemporary buildings — some by renowned architects — comprising 800,000 square feet of office and lab space.
When Liberty decided in 2018 to cease work on office projects such as those at the Navy Yard, nearly all of the Corporate Center's development parcels had been built on or spoken for, setting the stage for the next phases of work at the 1,200-acre South Philadelphia tract.
Ensemble and Mosaic were selected by PIDC in July to lead that work.
The team's first new building is to be a three-story, 100,000-square-foot lab and office building that would rise at 1201 Normandy Place, near the Corporate Center Development, Ensemble and Mosaic said Tuesday.
It will be built as a "speculative" project, meaning that work will begin without having tenants lined up for the space, and is expected to be completed before the end of next year, the companies said.
Ensemble and Mosaic will also soon begin marketing another nearby property, at 333 Rouse Blvd., as a development site for life-science companies seeking a custom-built drug-manufacturing plant, the developers said.
That property can accommodate a facility of up to 120,000 square feet, they said.
Future tenants of the planned buildings also may be eligible for breaks on some city and state taxes through the Navy Yard's designation as a Keystone Opportunity Zone if they create enough jobs or invest enough money there.