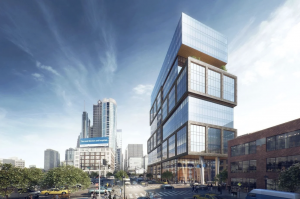 Law firm Morgan, Lewis & Bockius LLP is moving from Center City's core business district near City Hall to a new custom-built $200 million home near the banks of the Schuylkill, a hopeful sign in a city that has seen little ground-up office construction despite demand for commercial space.
Morgan Lewis has signed a lease to become the sole occupant of what's being called 2222 Market, a 19-story, 305,000-square-foot tower to be built for the law firm at 23rd and Market Streets, developer Parkway Corp. said Monday.
The project will be Center City's first non-Comcast Corp.-related commercial office building in more than 20 years, as developers struggle to build in a city where rents make it hard to justify the cost of new construction.
Parkway aims to begin construction this summer to allow Morgan Lewis to take occupancy in 2023.
"I hope it's a turning point," Parkway president Robert Zuritsky said.
Office buildings have continued to rise in University City and the Navy Yard, largely aided by Keystone Opportunity Zone tax benefits that help subsidize development at specific sites, but development has been more sluggish in Center City itself.
Citywide, only two office properties are under construction, both of them single-tenant buildings at the Navy Yard.
Center City, meanwhile, has seen just a handful of new buildings since the skyscraper construction boom of the late 1980s and early 1990s, outside of Comcast Corp.'s big headquarters and tech towers.
But developers are increasingly rolling out proposals for new Center City office buildings in hopes that tenants will bite.
Brandywine Realty Trust recently disclosed plans for a 23-story commercial and residential tower on the 2100 block of Market Street, and Parkway itself has been working on another office building proposal on land it owns at 20th and Arch Streets.
With an average office vacancy rate of 9.9%, which is below national levels, demand for new office space should be high in the city.
But "one market fundamental that continues to plague Philadelphia developers is [relatively low] average asking rents," they said.
Sarah E. Bouchard, Morgan Lewis' managing partner for the Philadelphia office, said her firm would be paying higher rent at the new bespoke building than at its existing home at 1701 Market St.
Parkway solidified its control over most of the block where the Morgan Lewis headquarters will rise with its 2015 acquisition of several parcels it didn't already own there from since-deceased real estate investor and porn impresario Richard Basciano.
The long-blighted block included the site of what had been Center City's last porn theater, the Forum Theatre, which closed in 2012.
Parkway began working on designs for the project about a year ago, as Aramark Corp. and the upscale Fitler Club membership club were moving into the nearby former industrial building at 2400 Market St., which had been overhauled by developer PMC Property Group.
Bouchard said her firm was drawn to the area's up-and-coming vibe when it was contemplating a move from its current home.
"Where we will be, at 2222 Market, is really developing," she said. "It's going to be exciting."
Article courtesy of the Inquirer
For more information about Philly office space for sale or lease in Philadelphia or about any other Philadelphia properties for sale or lease, please contact WCRE at 215-799-6900
Wolf Commercial Real Estate, a full-service CORFAC International brokerage and advisory firm, is a premier Philadelphia commercial real estate broker that provides a full range of Philadelphia commercial real estate listings and services, property management services, and marketing commercial offices, medical properties, industrial properties, land properties, retail buildings and other Philadelphia commercial properties for buyers, tenants, investors and sellers.
Please visit our websites for a full listing of Philadelphia commercial properties for lease or sale through our Philadelphia commercial real estate brokerage firm.