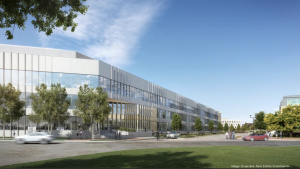 Ensemble Real Estate Investments has bulked up on its Philadelphia Navy Yard holdings and paid $83 million for a three-building portfolio.
The purchase of the properties means Ensemble has solidified its presence at the Navy Yard, establishing a critical mass at the site and stepping in where Liberty Property Trust left off. The real estate company now owns or holds interests in nine buildings totaling 1.1 million square feet at the South Philadelphia site and has invested a total of $360 million there.
More than half of its holdings, or five buildings totaling 550,000 square feet and an investment of $155 million, involve buildings that have manufacturing, laboratory, R&D and office space used for the development of immunotherapies, including cell-gene therapy. They house life science companies such as Adaptimmune Therapeutics, which maintains its U.S.
Long Beach, Calif.-based Ensemble is also part of a team named in July to develop 109 acres that is expected to reshape the next phase of the Navy Yard and it also controls several other sites that can be developed.
In its latest acquisition, the company purchased:
400 Rouse Blvd., a 140,000-square-foot office and laboratory building;
4751 League Island Blvd., an 82,000-square-foot building; and,
150,000-square-foot building at 4701 League Island Blvd.
All of the buildings are leased on a long-term basis to WuXi AppTec, which is one of the largest tenants at the Navy Yard.
"This is a critical component to our portfolio at the Navy Yard and to our growth strategy," said Mark Seltzer, senior vice president of development with Ensemble. "Wuxi is the driver of the life science cluster at the Navy Yard. They serve as the gateway to the new development and next phase of the Navy Yard."
Wuxi located to the Navy Yard in 2004 when it opened a 75,000-square-foot contract testing and manufacturing facility. It continued to grow over the years, adding a non-viral cell therapy manufacturing facilities and, in 2017, established an advanced therapy unit to bolster its U.S.-based cell and gene therapies. Earlier this year, Wuxi moved into 400 Rouse, which houses an advanced therapies testing facility and doubled its testing capacity for gene and cell therapies.
Life science companies prefer these two and three-story buildings that enable them to conduct research and manufacturing on single floors.
"They want to be in a horizontal environment and that's what makes the Navy Yard attractive," Seltzer said. These companies also like the Navy Yard's proximity to Philadelphia International Airport and University City, where there's a labor force from which to draw.
In addition to the Wuxi buildings, Ensemble owns at the Navy Yard a Courtyard by Marriott and four office buildings including One Crescent Drive, 150 Rouse Blvd., 201 Rouse Blvd., and 1200 Intrepid Ave.
*Article courtesy of Philadelphia Business Journal
For more information about Philadelphia space for sale or lease in Philadelphia or about any other Philadelphia properties for sale or lease, please contact WCRE at 215-799-6900.
Wolf Commercial Real Estate, a full-service CORFAC International brokerage and advisory firm, is a premier  Philadelphia commercial real estate broker that provides a full range of Philadelphia commercial real estate listings and services, property management services, and marketing commercial offices, medical properties, industrial properties, land properties, retail buildings and other Philadelphia commercial properties for buyers, tenants, investors and sellers.
Please visit our websites for a full listing of Philadelphia commercial properties for lease or sale through our  Philadelphia commercial real estate brokerage firm.