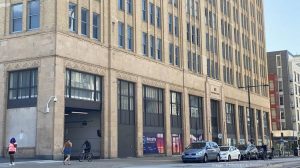 Biomeme Inc., a diagnostic startup behind a rapid Covid-19 test, has signed a lease on 44,000 square feet to relocate its headquarters, lab and production space to 401 N. Broad St. in Center City.
The company is currently housed in about 20,000 square feet at 1015 Chestnut St. and has grown during the pandemic as a result of its Covid test, which also detects variants that have been transmitted around the world.
The company, which previously invented a medical device called a PCR thermocycler that allows users to analyze DNA from an iPhone, received a $3 million grant from Pennsylvania's Redevelopment Assistance Capital Program to help fund the build-out of its new headquarters at 401 N. Broad, where it signed a 10-year lease.
Biomeme will join Nerd Street Gamers, another new tenant to the building. Last year, Nerd Street leased 35,000 square feet at 401 N. Broad and will relocate its headquarters to the 11-story, 1.3-million-square-foot building.
"Having Nerds and Biomeme changes the profile of that building in a big way," said Gary Lozoff, a broker with Tactix Real Estate Advisors who represented Biomeme. Christian Dyer of CBRE Inc. represented Netrality Data Centers, the landlord.
"It's no coincidence we're getting the next generation of companies," said Gerald M. Marshall, CEO of Netrality. "What's really interesting about Nerd Street and Biomeme is the infrastructure and connectivity that our telecom tenants and customers bring to the building. What makes our systems reliable is we have dual power, generators, backup generators, and all of that makes the systems robust and really drives the reliability these folks look for. It's really the starting point for both of these deals."
The building at 401 N. Broad was originally constructed in 1930 for Reading Co. and was redeveloped into one of the most important telecom hotels along the East Coast. The property is considered the most fiber-dense, network-neutral facility between New York and Virginia, making it ideal for a tenant such as Nerd Street.
There were other characteristics of the building that appealed to Biomeme for its lab and manufacturing operations such as heavy floor loading, wide column spacing, high ceilings, redundant electric utility feeds, mechanical systems that have supply and exhaust air ventilation, as well as secure loading docks.
It took a while for Biomeme to decide upon 401 N. Broad. Lozoff was hired by the company in April 2020 as it was finalizing the rapid Covid test and ramping up production. It decided to look for space that would accommodate all of the uses it needed including lab, headquarters, manufacturing and fulfillment rather than split them up into two different locations. Once that approach was finalized, the search was on.
"They had no desire to be in University City," Lozoff said.
Outside of the Philadelphia Navy Yard, University City is where life sciences companies have clustered in Philadelphia. However, options and timing didn't work in University City and the company also couldn't find space that had some other attributes important to it such as space with lots of natural light and expansive floorplates.
It looked at space in Kensington but that didn't work when it came to minimizing dislocation of employees. It finally focused on East of Broad and zeroed in on 401 N. Broad.
Though the rail station is further away compared to its space at 10th and Chestnut, it has access to the Rail Park. As part of the deal with Biomeme, Netrality is replacing the windows in its space that will allow some to be operable as well as double the size of the building's bike room to accommodate 60 bikes. North Broad is also undergoing increased development activity and a renaissance.
"There is some risk to ultimately going to 401 N. Broad," Lozoff said. "No other company doing what they do is located in that geography."
Not yet. Netrality has decided to focus on attracting life sciences companies to the building, which is a tact many landlords are exploring as demand for space by these companies has increased as traditional office space has waned.
"We have identified 100,000 square feet of space that works for life science companies," Marshall said.
Biomeme has taken roughly half of that, leaving another 51,866 square feet that Netrality is marketing to these firms. With the Nerd Street and Biomeme leases, the building now has 332,829 square feet of vacant space. The landlord is building out two lab spec suites of which one is 3,065 square feet and the other 3,754 square feet.
*Article courtesy of The Philadelphia Business Journal
For more information about Philadelphia office space for sale or lease in Philadelphia or about any other Philadelphia properties for sale or lease, please contact WCRE at 215-799-6900.
Wolf Commercial Real Estate, a full-service CORFAC International brokerage and advisory firm, is a premier Philadelphia commercial real estate broker that provides a full range of Philadelphia commercial real estate listings and services, property management services, and marketing commercial offices, medical properties, industrial properties, land properties, retail buildings and other Philadelphia commercial properties for buyers, tenants, investors and sellers.
Please visit our websites for a full listing of Philadelphia commercial properties for lease or sale through our Philadelphia commercial real estate brokerage firm.