Biotech Company Plans to Hire 200 Employees at uCity Square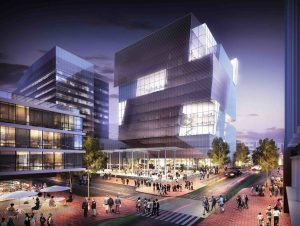 Global biotechnology company Amicus Therapeutics signed a 75,000-square-foot lease at University City Science Center's Class A office building in downtown Philadelphia.
The uCity Square facility at 3675 Market St. will serve as Amicus Therapeutics' (Nasdaq: FOLD) global research and gene therapy of excellence location, where the company expects to house 200 employees over the next few years.
Developed by Baltimore-based Wexford Science & Technology, the 350,000-square-foot building delivered in 2018. The 5-Star, 14-story structure is across from the 36th Street and Market Street light rail station, and the research center is expected to be completed by the third quarter of 2019.
A group of Amicus research employes have already moved into a temporty space at BioLabs@CIC Philadelphia during construction of the permanent space.
Amicus Therapeutics' Chairman and Chief Executive Officer John Crowley said in a statement, "The proximity to our collaborators at the University of Pennsylvania and other major academic centers and hospitals in the area also provides a tremendous opportunity to advance our commitment to gene therapies. Philadelphia is easily accessible to New Jersey, which has been a strong contributor to our success and will remain the location of our global headquarters."
_______________________________
For companies and individuals seeking to lease or acquire new Philly office space, Wolf Commercial Real Estate will identify the office space that best suits your needs, whether in the Greater Philadelphia area or anywhere in the country. Through our Philadelphia Tenant Representation services, we ensure that the sale or lease terms of the Philadelphia office space or any other new property are tailored to meet your goals. As a full-service Philly commercial real estate broker, we assist in the relocation analysis process from start to finish, facilitating a smooth transition into your new Philly office space and serving as your strategic partner invested in your long-term growth and success.
For more information about Philadelphia office space for sale or lease or about commercial properties for sale or lease elsewhere in the United States, please contact Jason Wolf (215-799-6900-office; 215-588-8800-cell; jason.wolf@wolfcre.com) at Wolf Commercial Real Estate, the premier Philly commercial real estate brokerage firm.