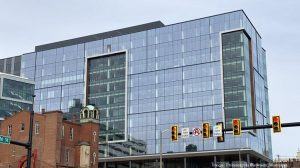 As the development of office component of Sora West in Conshohocken draws to a completion over the next several months, AmerisourceBergen Corp. has already begun preparing for its move into its new headquarters this summer.
As such, the Fortune 50 pharmaceutical distributor will join a growing list of companies that have faced the ordeal of relocating into new offices during a pandemic – Toll Brothers Inc., Macquarie, Fisher Phillips — or just weeks before employees were sent to work from home last March as in the case of Signant Health in Blue Bell.
Some firms preparing to move into new headquarters, such as Hamilton Lane, have already decided they don't need as much space as anticipated. In October 2019, Hamilton Lane signed a lease to occupy 130,000 square feet at Seven Tower Bridge, which is under construction in Conshohocken. Last summer, it had decided to shed one of those floors and expects to occupy about 100,000 square feet.
New spaces has also meant an opportunity to reimagine and reconfigure portions of their new offices to accommodate changes brought on by the coronavirus. Many of these alterations, which were foreign just a year ago, have now become commonly accepted and expected.
At the groundbreaking of its new $200 million headquarters at 2222 Market St. last September, Morgan Lewis executives confirmed the law firm remained committed to the building but would evaluate the interior design through a new lens brought on by the coronavirus and employees working from home.
In the case of AmerisourceBergen, there are "some in-office experiences that may differ from our original plans prior to the Covid-19 pandemic," said Lauren Esposito, spokeswoman at the company, in an email.
At its new 11-story, 429,122-square-foot building at 125 E. Elm St., the company is installing furniture, products and coverings that can be easily cleaned and disinfected, and have picked fabrics that can be bleached as needed, Esposito said. Offices and cubicles will be "safely" spaced and the company intends to clean, every day on an hourly basis, all high-touch points as part of a new, standard office protocols.
The company also put in touch-free appliances, such as drinking dispensers, soap machines and water faucets.
"We are using science and data to make decisions and validate recommendations and procedures," she said. "We rely on CDC and WHO guidelines as guidance continues to evolve. We have also engaged an external medical advisor to provide an objective interpretation of these guidelines to help us make the right decisions for our company."
As originally planned, AmerisourceBergen (NYSE: ABC) intends to occupy the entire building but it will carve out a "small portion" of the space that will not have any offices and will be used as needed "to keep our employees comfortable, healthy and safe." About 1,500 employees are expected to work out of the building.
In the meantime, the company continues to have its employees work remotely here and across its other offices and is taking a measured approach to returning to physical offices including at its new home in Conshohocken.
"While we remain hopeful that we can return to the office this summer, we must continue to work within a fluid timeline while we reassess the multiple factors that go into a phased re-entry plan across the enterprise in order to keep our employees safe," Esposito said.
In addition to AmerisourceBergen's offices, Sora West will include a new hotel and two restaurants. Keystone Property Group, the developer, officially broke ground on the project in April 2019 and this month moved forward with construction of the hotel.
*Article courtesy of Philadelphia Business Journal
For more information about Philadelphia office space for sale or lease in Philadelphia or about any other Philadelphia properties for sale or lease, please contact WCRE at 215-799-6900.
Wolf Commercial Real Estate, a full-service CORFAC International brokerage and advisory firm, is a premier Philadelphia commercial real estate broker that provides a full range of Philadelphia commercial real estate listings and services, property management services, and marketing commercial offices, medical properties, industrial properties, land properties, retail buildings and other Philadelphia commercial properties for buyers, tenants, investors and sellers.
Please visit our websites for a full listing of Philadelphia commercial properties for lease or sale through our Philadelphia commercial real estate brokerage firm.