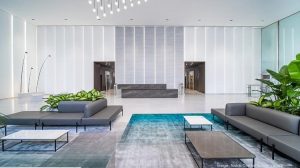 Nahla Capital has completed $12 million in interior and exterior renovations to 2000 Market St. and signed a handful of lease renewals at the Center City office building.
"We have had good momentum even during the pandemic," said P.J. Van Hoof, senior associate at Nahla Capital. "We had more smaller tenants that were expiring and with those tenants, we have been solving with short-term solutions."
It's not uncommon for tenants not to make long-term leasing decisions during the pandemic but rather strike a short-term renewal to provide it with some time to figure out its space needs in the future. Hamburg Süd, a global shipping company located in the building for the last 10 years, was one of the tenants that renewed its lease but also downsized. It signed a five-year deal on 14,295 square feet, shrinking from 22,000 square feet.
Duff & Phelps, a financial consulting firm, exercised an option to expand by 3,000 square feet, growing to 17,000 square feet from 14,000 square feet. The company had renewed for seven years at the end of 2019.
Medtrics Lab, a digital health company, signed a new, three-year lease on 2,600 square feet. InnovAge Life, which provides medical care to seniors, renewed its lease on 3,624 square feet for 24 months, and Toppan Merrill, a communications company, renewed for 25 months on 4,209 square feet. The building is 90% leased.
The office market has fluctuated since last March with some tenants willing to make leasing commitments but many deciding to delay those decisions.
Nahla partnered with the merchant banking division of Goldman Sachs to buy 2000 Market for $126.4 million in July 2018. The 29-story, 665,649-square-foot office building was built in 1973 and, after purchasing the tower, Nahla undertook a series of renovations. It installed four new cooling towers, upgraded the elevators, fire alarm and security systems and restored the façade.
The lobby was also renovated. That project was supposed to have begun last March but was delayed because of the pandemic. Once the project ramped up two months later, work was accelerated since it could be conducted throughout the day with little disruption since most tenants still have employees working from home.
Nahla retained architectural firm Soulis & Berlic to design the space so that an illuminated wall of Nestos marble panels is a focal point. The lobby has new wood paneled elevator banks, lighting and seating areas and is much more contemporary.
Renovations to the building's shared conference facility are underway as is the installation of ultra-violet duct cleaning technology.
With the renovations nearly completed and the occupancy steady, Nahla doesn't plan to sell the building at this point. "Our next big push is to focus on leasing," Van Hoof said. "Though 90% is a healthy occupancy, we think there is still room to improve the building."
*Article courtesy of Philadelphia Business Journal
For more information about Philadelphia office space for sale or lease in Philadelphia or about any other Philadelphia properties for sale or lease, please contact WCRE at 215-799-6900.
Wolf Commercial Real Estate, a full-service CORFAC International brokerage and advisory firm, is a premier Philadelphia commercial real estate broker that provides a full range of Philadelphia commercial real estate listings and services, property management services, and marketing commercial offices, medical properties, industrial properties, land properties, retail buildings and other Philadelphia commercial properties for buyers, tenants, investors and sellers.
Please visit our websites for a full listing of Philadelphia commercial properties for lease or sale through our Philadelphia commercial real estate brokerage firm.